3rd March 2017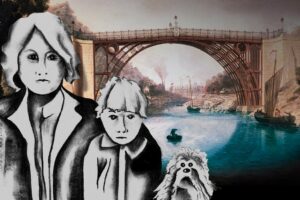 Primary School Environmental Study KS2 Victorians. Many schools are using Carole Anne Carr's adventure story Candle Dark. Written for KS2, it is historically accurate, provides the detail about the lives of parents and children living at the time of the industrial revolution, and is an adventure story that children can't put down.
The children meet Joshua. Nearly eleven, he'd worked down the Blists Hill coal pit since he was seven and a bit. He hated it down there. He hated working in the dark, he hated the rats and the stink of the tunnels, and he especially hated it when the mine flooded and his wet boots rubbed his feet raw. Then on the day that Bradley the horsekeeper gave him another beating so bad he ached all over, he made up his mind to run away and find work on the Severn trows. But what would happen to poor Drummer, left behind in the dark? What would happen to his Mum and sisters if he left them to the mercy of the evil Isaac Whitlock? And how could he sail to Bristol, when his Dad had been set to work in the most dangerous part of the mine? Afraid of the river gangs and worrying about his Dad, Joshua must decide whether to run for his life, or to stay in Coalport and try to protect his family.
Primary School Environmental Study KS2 Victorians
"Want to find a brilliant children's book for KS2 which will encourage them to read while offering historical accuracy? Check out this latest novel. In 'Candle Dark', published and written by Shropshire-based author Carole Anne Carr, she has once again used her wealth of experience as a primary school teacher to create a world set against a backdrop of what life was really like for children working in coal mines in the Ironbridge Gorge, Shropshire during the 18th century. This book highlights the hardships of life down the mines for youngsters as it follows the book's hero, Joshua, on an exciting adventure. Carole has written a novel that will not only engage children but also encourage them to read for pleasure. This publication can be enjoyed by youngsters and adults alike, and offers a valuable teaching tool for those keen to learn more about life in Ironbridge at that time.  I really enjoyed this, it is superbly written and it proved to be very difficult to put it down! Although the characters and events are imaginary, Carole has portrayed the  working conditions and the life of the family living in the Gorge at a time of rapid industrial growth, and as well as being an exciting read, is a wonderful teaching tool for Key Stage 2. The author is at present writing a sequel to Candle Dark, entitled River Dark, which has the River Severn and the trows as an integral part of the story".
Book Review by Sophie Corness – Shropshire Star