31st October 2021
Class 3 have been reading Candle Dark and their teacher, Mrs. Wilkie, has kindly sent me lovely
photographs of some of the children. Thank you so much.
For their art work, they have the used the cover illustration and experimented
with a different style of painting 'wet on wet' and they have produced some excellent results, well done Class 3!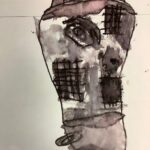 Here are some of the children in their classroom, it is great to see them.
I am hoping to add more photographs.
Back to News